The Laurels of Blanchester - A Skilled Nursing & Rehabilitation Center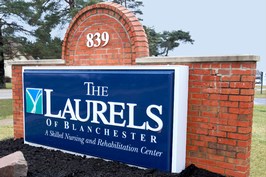 Located in the village of Blanchester along State Rt. 28, The Laurels of Blanchester is a 50-bed skilled nursing and rehabilitation center that provides care for both short-term and extended-stay guests. We are excited for you to see our recently completed addition and entire facility renovation which has added a state-of-the-art therapy gym and large private suites with full bathrooms. What we provide is not just any care – it's The Laurel Way of Caring, a quality of attention that goes beyond the basics to address our guests' needs for security, importance and belonging.
Our short-term guests who need additional medical services after leaving a hospital experience excellent results under the care of our coordinated physician, nursing and therapy team. Longer-term guests with physical or cognitive limitations enjoy our wide array of activities and social events, from special live entertainment to the inclusion of their families in our holiday celebrations.
The Laurels of Blanchester's team of professionals is dedicated to promoting the highest level of independence and quality of life by providing comprehensive health-care services in a comfortable and caring living environment.